Homechoice Property Management Solution for the Discerning Landlord or Estate Agent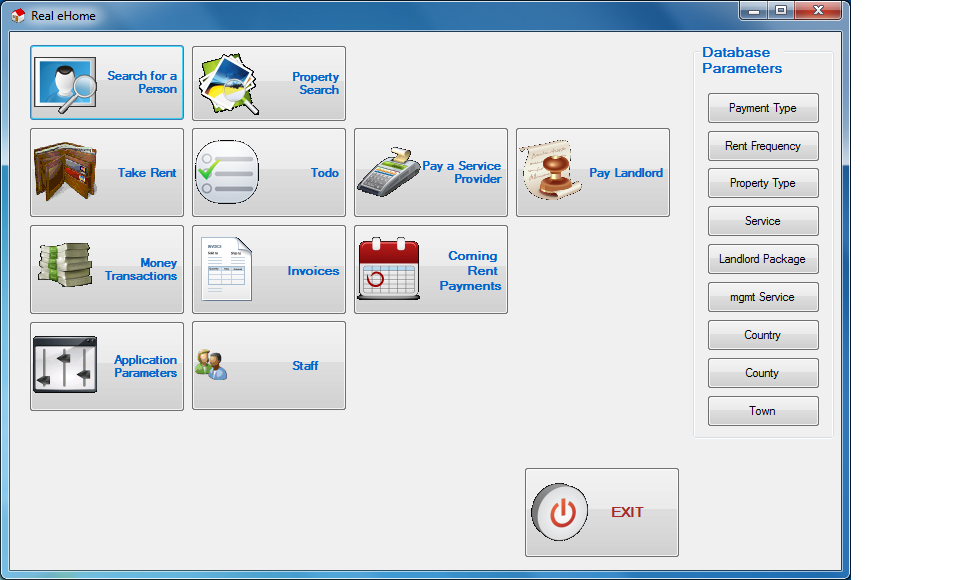 Multiple Staff Option
Payment Type
Rent Frequency: How often would the rent be collected e.g. Monthly, Four-Weekly etc.
Property Type: Such as House, flat etc.
Click Property Type and Enter the Property Types
Service: (Services by Service Providers. E.g. Electrician, builder etc.)
Click Service and Enter the Service Types
Landlord Package: Eg. Gold Management, Silver Management etc.
Click Landlord Package and Enter Landlord Packages
Mgmt Services: Management Services offer by the Estate agent
Click Mgmt Service and Enter Mgmt Services
Country, County and Town: List of Countries, Counties and Towns Served
Click Country and Enter Countries Served.
Likewise for County and Town.
LIST UPCOMING RENTS
list all upcoming rents due for payment
SEARCH FOR A PERSON:
Allows to add / Search Landlord, Tenant or Service Provider. As well as to search
Click Search and Select from List.
ADD LANDLORD AND LANDORDS PROPERTY:
ADD LANDLORD > Add personal details > Select Management Package > Click SAVE.
ADD PROPERTY > Set Property Address and Particulars of all properties offered by landlord including the correspondence address.
Click SET AS DEFAULT BILLING ADDRESS on Property of Landlords correspondence.
ADD TENANT AND ALLOCATE PROPERTY
Search for a Person > ADD TENANT > Add Tenant details > Click SAVE
ADD PROPERTY > Selected Property > Enter Move In Date > Click CLOSE
You may adjust the rent from this screen
TAKE DEPOSIT:
Click Take Deposit > Check the Created Date > Select Property > Add FEES (if applicable)
Invoice will be created only of fees are added.
RECEIVE RENT:
Click on Receive Rent > Select Property > Payment date is Shown > Amount is Shown > Click SAVE
At this point you can change the date to collect earlier payments
Created is current date.
Next Payment is the date for Next Payment. (Period covered from created date to next payment date)
Partial Rent Payments:
Change the date NEXT PAYMENT > click outside of the date box > Select NO to accept new date.
DELETING A TRANSACTION
Money Transactions, shows all the transactions.
Click on Money Transactions > SELECT Transaction > Click DELETE
Finalised transactions linked to statements cannot be deleted.
ADD SERVICE PROVIDER:
Click SEARCH FOR A PERSON > Add. Service Provider > Add Details > Click Save
Add Services Provided by the Selected Service Provider:
Add Service > Select Service from list > Click select
ADD Property details for service Provider on the same screen
ADD A TO-DO:
maintenance Jobs on properties can recorded and allocated to Service Providers (Contractors)
From the main screen, click TODO > Click ADD > type in service details > Select property >
TODO can be closed after payment to Service provider has been made
PROPERTY SEARCH list all available properties
PAY LANDLORD:
• SELECT Property
• SELECT transactions (by clicking on the green arrow)
• ADD management services
• Finalize Statement
• Print Statement / Invoice