Bring your  Masjid to the 21st Century…
With a Professional Digital Salaah Display System
and Notice-Board
Digital Salaah Display incorporates
Easy to Use and User-friendly interface with un-matchable features including:

Full control on setting Salaah times

Display an unlimited number of notices/ahadith.

Salaah Timetable allows you easily configure times for Salaah and then printed a professionally laid out timetable

You have full control over the text to be displayed on the timetable

Unique Upload to Web Feature

Set Display Vertical Format for Salaah Display features only

Set Display Horizontal Format  with Notices and paid advertisements

Many Display formats to choose from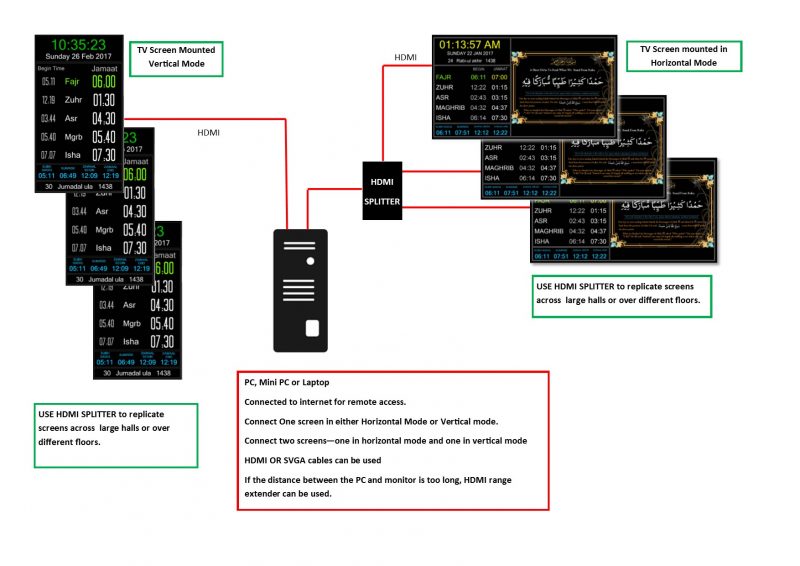 As evident from the above images, MMIMS DIGITAL SALAAH DISPLAY,
can be used in portrait mode,

can be used in landscape mode

or it can be used in both modes simultaenously
and it can be done from just one pc or one laptop.
Recommended PC:
Desktop Smart Mini PC

Intel Atom x5-Z8350 Processor

4GB Ram

64Gb HDD

1000Mbps LAN

HDMI

VGA

2.4G+5.8G Dual WiFi
Windows 7 or Windows 10

Windows will usually be available on your existing PC or Laptop

It may come pre-installed on purchase of a new PC or Laptop.

Microsoft SQL Server

SQL Server 2008 R2 Express is recommended
---
Anyone with some IT knowledge can download the required software and install it.
If you are unable to perform this task, we can assist you logging in remotely to your PC.
It does not matter which country you are in, as long as you have a reasonably fast internet connection, we will be able to assist you
Depending on the size of masjid hall, you will utilise a 40-inch minimum screen size or larger. 55-inch would be ideal.

It must be HD ready to support resolution of 1920 x 1080 Pixels.
It must have at least one HDMI input.
Mount the screen(s) in your choice of orientation